GP338-PLUS-U
Motorola GP338 Plus UHF 403-470Mhz Portable Transceiver
Smallest Professional Radio of Motorola
Compact, Versatile and Easy to Use
Instant communication is important to many operations, as is the ability to be mobile and move freely without being weighed down by your communication tools.

Newest professional two-way radio of Motorola packs a range of cutting edge innovations into one compact and lightweight radio designed to continue the Motorola heritage of offering the very best that portable radios can offer.

Introducing Motorola GP328 Plus non-keypad and GP338 Plus keypad two-ways radios - the smallest in Motorola Professional Series, that are compact and light, fitting easily into the palm of your hand. But do not let the size fool you. They are ruggedly packed with reliable technology of Motorola and features that do not compromise on the performance of the radio.
Key Features :
Advanced Audio Technology
The special voice compression and low level expansion technology enable crisper, clearer and stronger audio quality, allowing you to keep communicating even in a noisy environment.
Emergency Alarm/Siren
Meeting the need for urgent communication in critical situations, the easy-to-use, one touch emergency button emits a piercing alarm providing users with instant help alert.
Switchable RF Power level
By just pressing one button, users can switch to a low power when communicating within limited range coverage or switch to a high power level when further distance is required. High transmit power optimises range coverage while a low transmit power conserves battery consumption.
Repeater/Talkaround
Enable/Disable
Users have the freedom to communicate through a repeater for wide area coverage, or bypass a repeater and talk directly to another radio if the coverage is within the range or when the repeater fails.
Tight/Normal Squelch
Users have the flexibility to protect their communication by selecting to a tight squelch to filter interference of unwanted weak signal; or switch to normal squelch to increase coverage.
14-Character Alpha Numeric Dot Matrix display
The 14 character Alpha Numeric display allows immediate communication of vital information such as PTT ID, radio strength indicator and signal strength indicator. In addition, the user-friendly icons make the information easy to read and understand. The keypad and display illuminations also provide the visibility to operate your radio in the dark.
Received Signal Strength Indicator
An easy to read on screen display indicator notifies users of signal strength in their vicinity.
Name & Tone Tagging
The capability of assigning 8 different ringing tones and visual caller IDs to 8 specific users/talkgroups enhances audio and visual caller identification for these 8 groups.
Battery Strength Indicator
Easy to read on-screen LCD display indicator alerts users on low battery strength.
128 Channels
Provides up to a maximum of 128 channels providing greater flexibility in organising different work groups
Menu Keys
The easy to navigate menu keys allow users to select relevant functionalities.
Enhanced Signalling Features for GP338 Plus
The GP338 Plus Keypad supports the MDC1200 Signalling Protocol.
PTT-ID
Every time the PTT button is pressed, it enables the transmission of the caller ID.
Status/Messages
This feature enables you to replace frequently used voice calls with status messages, saving you valuable communication time.
Call Alert
If your call to a radio has no response, the radio will emit an alert tone until the other party takes action.
Voice Selective Call
The radio users receive a unique individual or group voice message with an alert to indicate that it is a selective call.
Priority Scanning
Allows activity on different channels to be monitored. Any incoming call will be automatically switched to another available channel so that the call can be received.
Specifications: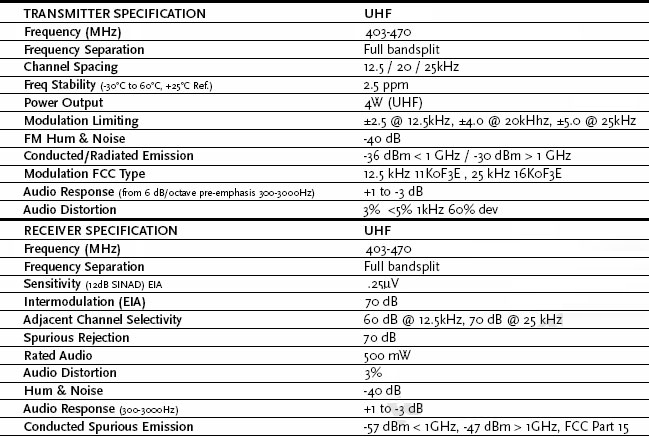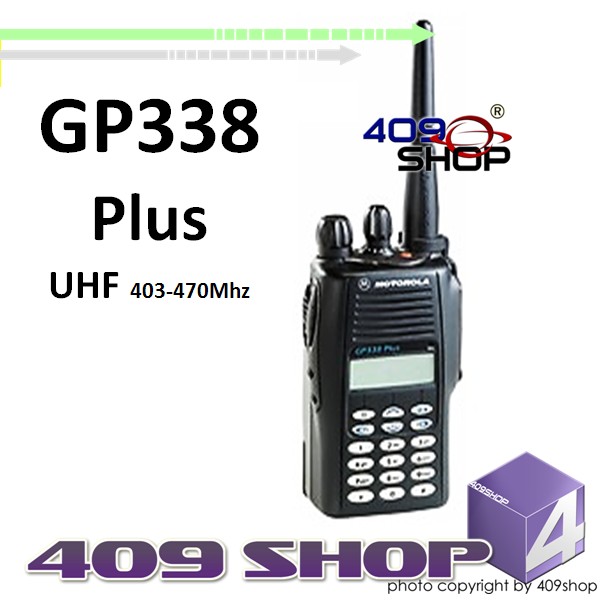 Photo will have chromatic aberration compared with the product
1 x Motorola GP338 Plus UHF 403-470Mhz Portable Transceiver
1 x JMNN4023 NiMH rechargeable battery
1 x PMTN4026 rapid charger (with correct voltage and plug for your country)
1 x Antenna
1 x Spring belt clip
1 x English Operation manual